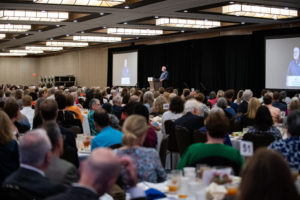 The 2019 Uniting for Change Luncheon took place on Thursday, April 25 at the Hyatt Regency Downtown. Speaking to a record, sold-out crowd of over 800 people, Father Gregory Boyle, Founder & Executive Director of Homeboy Industries in Los Angeles, California and author of Tattoos on the Heart and Barking to the Choir gave the keynote address on building a community where no one was outside the "circle of compassion." The speech was stirring – funny at times, tear-inducing at others.
Boyle encouraged attendees to stand with those society deems "disposable" so that the day might come when "we stop throwing people away."
Following a video that detailed the services offered by United Ministries, Katherine Davis, board chair, announced a $50,000 challenge gift from current United Ministries supporters: Mary & John Braeunig, Leigh & Mike Andrews, and Karen Fountain.  Attendees sought to meet that challenge and made the 4th annual Uniting for Change Luncheon the most successful event in United Ministries' history. The total money raised for the programs of United Ministries is $178,554.24 with gifts continuing to come in.
Proceeds from the luncheon benefit the five programs of United Ministries: emergency assistance, the Place of Hope day shelter for the homeless, the Interfaith Hospitality Network (which provides shelter for homeless families with children), employment readiness, and adult education. The donations will provide life essentials for families seeking food and utility assistance, will assist families and individuals experiencing homelessness to receive hospitality and gain a home, and will help to foster self-sufficiency through the GED program and employment assistance.
United Ministries extends a special thank you to all sponsors, especially to Buncombe Street United Methodist Church and First Baptist Church, Greenville – the Transformation level sponsors.
Sponsors at other levels include those at the Empowerment level: Becky & Bobby Hartness; Betty & Lewis Smoak; Canal Insurance Company; the Community Foundation of Greenville; Dority & Manning; NHE; Prisma Health; Reynolds Investment Management; and United Community Bank.
Those at the Table sponsor level include: Cindy Poe & Susan Merritt; CRH Properties LLC; Dr. and Mrs. Terrell Leeke; Elliott Davis; Frances Poe; Furman University; Greenville Technical College; Hub International | Keenan Suggs; Jasmine Road; JustFaith Greenville; JustFaith Christ Church – Anne & Tom Johnson; JustFaith Christ Church – Perry Gilreath; JustFaith St. Anthony's; Miller, St. John & Steele Group; Nachman Norwood & Parrott; Nicki & Bob Dillon; Peggy & Ed Good; Smoak PR; St. Andrew's Episcopal; St. Matthew United Methodist Church; Susan & Michael Cinquemani; and Westminster Presbyterian Church.
United Ministries announced the date for their 50th anniversary Uniting for Change event which is set for Wednesday, April 22, 2020 at the Greenville Convention Center.
Recent Posts
Archives
Categories