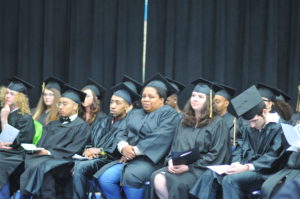 On Thursday, March 7th, family and friends gathered in Buncombe Street United Methodist Church while the graduates of the Adult Education GED program prepared for the evening. Students from the Beta Club at Eastside High School provided snacks and assisted guests during the wait. Graduates, meanwhile, tried on their robes, ate pizza and cake, and took pictures.
Many of the graduates sat quietly in anticipation of a chance to publicly celebrate months of hard work and dedication–months of "climbing those stairs day after day and facing the things that were hard for [them]," as Program Manager Dr. Lisa Hall said in her remarks. Eventually, people filtered into the graduation hall and Executive Director Tony McDade welcomed everyone and gave the invocation. Then, Pomp and Circumstance began, and the procession of graduates made its way into the hall.
Graduation at United Ministries celebrates everyone who graduates over the course of the year between each graduation. This year, there were 105 students who received their GEDs. 40 of those students were able to attend graduation and celebrate the occasion with their peers and loved ones.
The evening was a celebration of more than just attaining the GED. As graduate speaker Hannah Chipps said of the day she passed the test, "For the first time in my life, I looked in the mirror and was proud of who I saw." Getting her GED showed Hannah that she could have a bright future. It gave her the courage to believe in a better future. At the end of her speech, Hannah concluded, "I want to make a difference, to be a nurse or an advocate or a defender. I want to find the helpless and insecure and give them what you gave me – hope."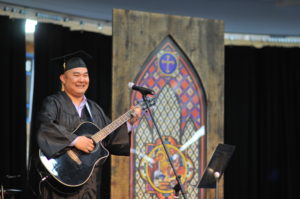 Perhaps the biggest surprise of the night was the musical entertainment provided by Young Ghun, another graduate. In his introduction to his second song, he said that since he had gotten his GED and achieved one of his dreams, he figured that he would make the most of the night and achieve a second lifelong dream. That dream was singing a duet with a Muppet. Then, acoustic guitar in hand and a big smile on his face, he sang The Rainbow Connection while switching between his own voice and the voice of Kermit the Frog.
The evening was full of laughter and tears of joy as each graduate walked across the stage in front of everyone who helped them achieve their dreams. The support of those in the crowd echoed the support the students had received from staff, volunteers, and loved ones. Brandon Leitz, another graduate speaker, said it best in his thanks; "I truly mean it when I say I don't know how God put so many angels in one place."
Among those angels were Gary Barnhart, a volunteer tutor who spoke at graduation, United Ministries staff members, and the Smart Family Fund, the presenting sponsors of the evening. As the evening ended, graduates flocked to those who helped them along the journey. As Janey House, an Academic Counselor at UM says, "Everyone has to earn the GED themselves. No one can do it for them. But, that doesn't mean they have to do it alone."
Recent Posts
Archives
Categories