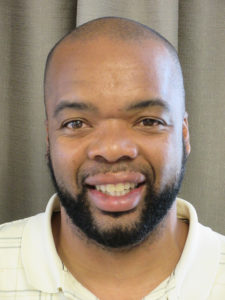 Devlin joined Employment Readiness in June 2017 after serving 14 years in prison for a drug charge. He was already working full-time when he first came to United Ministries, but Devlin had goals beyond simple employment, and he liked the holistic approach of Employment Readiness. He wanted to start his post-incarceration journey by improving his financial situation and then wanted to investigate training options that would lead to a career.
Devlin met with both a United Ministries financial volunteer and a financial wellness coach at partner agency CommunityWorks Carolina to assess his financial situation.  Together with his financial coaches, Devlin created a budget, began building his credit and increasing his credit score and opened a bank account. He also took advantage of the matched savings program offered through Employment Readiness and began saving $100 per month. Devlin worked with his employment counselor to update his resume and to research his training options. He decided that the Truck Driver Training program at Greenville Tech was the best fit for him and his long-term goals. Devlin had proven himself to be punctual, friendly, capable, and skilled at following through, which led to United Ministries sponsoring him for the training he had chosen.
Devlin kept in touch with his employment counselor throughout the training. He also successfully changed jobs during his training to a placement that better fit his class schedule. Devlin passed his Truck Driver Training course in April 2018, and then in May, he earned his Class A Commercial Driver's License. For Devlin, truck driving is more than just a job he will enjoy. Truck driving will provide him with opportunities for advancement and entrepreneurship. He is currently working full-time as a truck driver and would like to eventually  purchase his own truck. He hopes to one day be able to purchase a second truck to offer others reentering the workforce after incarceration a quality employment opportunity.
Recent Posts
Archives
Categories