Dual Purpose: Transportation and Recreation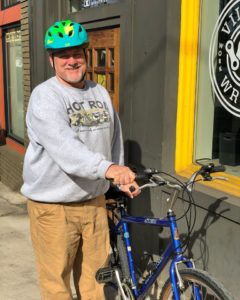 For many of our participants, transportation is an obstacle to finding employment, and getting access to health care, childcare, school, grocery stores, and more. To help alleviate the obstacle of transportation for our participants, we started a bike referral agreement with the Village Wrench in 2015. Bikes are a reliable, environmentally friendly, and heart-healthy form of transportation.
The Village Wrench, part of Mill Community Ministries, is a local nonprofit working to transform under-resourced communities through bicycles. One of their programs, "Earn-a-Bike," allows for individuals to earn his or her own set of wheels by building credit hours through community volunteerism and service. We've referred many of our Place of Hope and Employment Readiness participants to the Village Wrench to earn a bike over the past five years.
One of our Employment Readiness participants, Joseph Bozzelli, was the first individual in 2020 to complete the Earn-a-Bike program. Joseph joined our Employment Readiness program through Miracle Hill's Overcomer program in late 2019. He has since been working with an employment counselor and our financial services coordinator for guidance in pursuing a career in HVAC work. At one of his appointments, his employment counselor referred him to the Village Wrench for help with transportation needs as he has no current form of transportation for his work.
Joseph earned his bike by distributing coats during the holidays at Triune Mercy Center. He enjoyed giving back to his community in this way, especially connecting with the kids there. By completing the hours needed to receive a bike, Joseph got his new set of wheels, helmet, lock and lights in January. "I'm overwhelmed," said Joseph on earning his bike. He now has a way to get to and from the grocery store, the clinic, and other places he needs to go. His bike has given him the gift of independence, access to resources, and possibly one of the best gifts of all, a means of recreation that he enjoys.
Thank you, Village Wrench, for offering a great way for individuals to give back and have an opportunity to receive means of transportation. We're thankful to be part of this collaborative and supportive nonprofit community in the greater Greenville area!
Recent Posts
Archives
Categories