The deadline has passed, the pennies have been counted, and the report has been mailed.  It's official:  The 2011 Feinstein Challenge has finished! 
To give a little background, Alan Shawn Feinstein is a retired financial advisor who now devotes most of his time to philanthropic work.  For the past 13 years Mr. Feinstein has given away $1 Million annually to match funds raised for fighting hunger issues.   By promoting his offer to personally match dollars raised, non-profits around the country have raised over ONE AND A QUARTER BILLION Dollars towards ending hunger!   It is undisputedly one of the most successful on-going hunger campaigns ever; This one man in Rhode Island has changed the landscape of hunger issues for the entire nation.  To read more about Mr. Feinstein, click here for his website.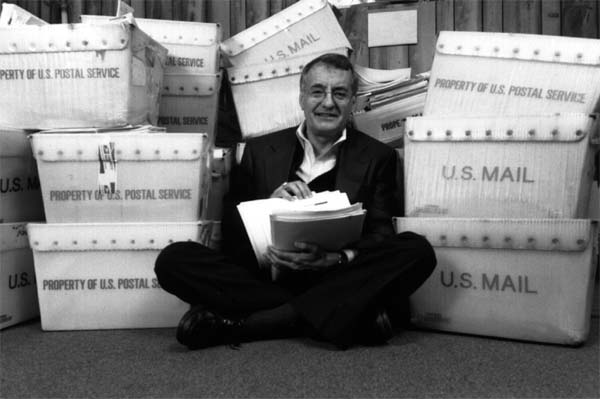 Mr. Feinstein, with all the mail he receives from hunger-fighting non-profits around the country
 Hunger is an issue with which we're all too familiar at United Ministries.  Sadly, South Carolina ranks 2nd in the nation for food hardship, which is defined by the Food Research and Action Center as answering "yes" to the following question:  "Have there been times in the past twelve months when you did not have enough money to buy food that you or your family needed?".
United Ministries' Emergency Assistance Program feeds people daily through our food pantry, and in 2010 we served 6,767 people with food.  This spring we once again accepted the Feinstein Challenge, and you all rose to the occasion.  Through your generosity we were able to raise a staggering $84,844.57!  This total is more than eight times the amount we received last year!  We are overwhelmed and overjoyed with your response to our efforts, and we are blessed with supporters who will work with us to fight hunger and improve the lives of those in our community.  We look forward to seeing Mr. Feinstein's response to our report, and we will keep you posted on the total match we receive from his foundation.  In the meantime, we would like to extend our heartfelt thanks for your generosity.  Thank you for helping us change lives.
Recent Posts
Archives
Categories