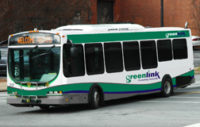 An unemployed participant is working with an employment counselor in Employment Readiness to find the right job to secure a stable future. The participant finds a position perfectly suited to her skills and experience. Unfortunately, the job is for second shift, and the participant doesn't own a car. Based on the current hours of Greenlink, Greenville's public transit system, the participant can't possibly make it home from a second shift job on the bus line. The participant loses out on what could have been a great job for her. Unfortunately, in Greenville, this is a common story.
In April of 2018, the Greenville Transit Authority released the Transit Development Plan (TDP) for Greenlink. The plan puts forth a sweeping vision of improvements to Greenlink, starting with immediate operational improvements and then extending to long-term goals to improve the system. Some of the short-term improvements include extending hours of operation to 11:30 p.m. and adding Sunday service.
The first phase of the plan requires an additional $1.4 million in operating funds from the City of Greenville and Greenville County combined. This need is what Leadership Greenville Class 44 saw as an opportunity. The cohort, including United Ministries' Employment Readiness Program Manager Amanda Warren, took on transportation as a focus area post-graduation this past May and joined with a coalition of leaders from nonprofits, the business community, and local funders to push for the funding, particularly from Greenville County Council.
As part of the group's efforts, volunteers are riding various bus routes, gathering information and stories from riders, educating riders about the TDP, and urging riders to contact members of Greenville County Council show support for the increased funding. This effort serves not only to increase awareness for Greenlink's plan, but also to help Greenville County Council members understand how many of their constituents, as well as the economy, will benefit from this plan.
Amanda and others in the coalition are working hard to educate the greater Greenville community as to the incredible challenges that exist with the current transit system due to a lack of funding. Not only do the current hours of operation greatly limit job opportunities for riders, but they also make everyday tasks incredibly hard to tackle. Simply running to the drug store or buying groceries is quite a frustrating chore because buses only run once per hour. Moreover, individuals who would like to utilize public transit instead of private vehicles often cannot do so based on the current limitations.
Greenville is a vibrant, growing area. However, our entire county needs an investment in public transportation so that people who want to work can connect with open jobs and so that those who are traveling from the county into downtown can get to work without struggling to find a place to park.
Greenlink has done the hard work of laying out a plan that will assist with the constantly growing issue of access, boost the economy of the county through improved access to jobs, and improve the lives of untold amounts of people in our community. Greenlink just needs the support of our elected officials to make this happen.
If you would like to volunteer with efforts to gather bus riders' information and inform riders of how they can advocate for improved funding, please contact Sean Rusnak, Furman University Health Policy Fellow, at Sean.Rusnak2@furman.edu
If you believe in the need for better bus service for all citizens of Greenville, please contact your Greenville County Council representative and tell him/her to support funding for Greenlink.