Giving Back is the New Black—Four Practicals [Part 1 of 2]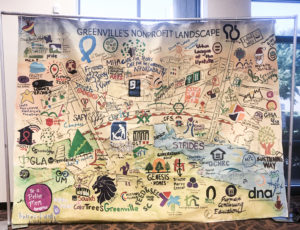 Sharing four points on volunteerism—starting with statistics and ending with practicals—because it's time to answer the question that's on everyone's mind: "…but how do you actually get involved?"
WHY VOLUNTEER?
Volunteering connects us to our communities, forces us to see new perspectives, gives us a sense of purpose, aligns our passions with our time, strengthens our professional skills (92% of human resource executives said it can improve an employee leadership skills), or simply give us something to do. It gives us that "feel good" feeling from making an impact.
Not many would scoff at this message, hopefully you are nodding your head as you read, but the mandate to volunteer has become a complicated refrain with numerous causes clawing for our attention. We're in a crowded marketplace of ideas, so then, how does one get involved?
PRACTICALLY, HOW DO I GET STARTED WITH VOLUNTEERING?
Let's start with the main 3 avenues of giving—time, talent, and/or treasure.
Take your pick(s): time, talent and/or treasure. Think through if you want to give your time to volunteering (and if you have the time), or if you want to give through your abilities and knowledge, or if you want to financially give. Or all three.
Narrow down the agency or agencies you want to work with. You can find lists of volunteer opportunities, charities, and nonprofits here: Together SC

(must be a member),

SCIWay

, and

VolunteerMatch

.

Determine your availability.

The more you know your availability, the easier to narrow down which volunteer options are best for you. For example, if you're only free on Saturdays, look for an agency that is open on Saturdays.

ASK YOURSELF: If I plan to give my time, when am I free to volunteer? How frequently do I want to volunteer (e.g. monthly, weekly, sporadically)? Do I want to volunteer alone or with family and/or friends? Is this volunteer opportunity reoccurring or a one-time event?

Find a cause(s) you're passionate about.

Let your passions lead your decision! Connect your time, talent, or donations to your personal why and values.

ASK YOURSELF: Do my personal values align with this agency's vision? Would I want to tell my friends about this cause? Does reading about this agency make me feel energized?

Reach out to the volunteer coordinator (or main contact) at 2 to 3 organizations. Take a tour of the facility, see if it feels like a good fit, if they're as flexible as you need, etc.
Pick the place or opportunities you want to invest in. Write that e-mail to the volunteer coordinator and click "send"—no need to overthink it. Agencies appreciate if you keep your commitment, but we understand that this is not your job. You can always change plans if needed.
VOLUNTEER IDEA: Create a charitable giving team at your workplace. Maybe you don't have as much time to give, so why not use your talent to organize a food drive or collect donations from your company to give to a cause? There are mutual benefits for both company and nonprofit/charity when you do this.
We hope this helps your search to find the right organization to serve with your time, talent or treasure, and empowers you to use your abilities to better our community.
"You make a living by what you get. You make a life by what you give." –Winston Churchill
If you're interested in learning more about ways to get involved at United Ministries, e-mail Claire Winkler at cwinkler@united-ministries.org or fill out a volunteer profile here.
Resources:
Harvard- Volunteering May be Good for Body and Mind
Forbes- Loneliness is a Serious Risk to Your Parents' Health 
Huff Post- The Benefits of Volunteering
APA PsychNet- Motives for Volunteering
Recent Posts
Archives
Categories