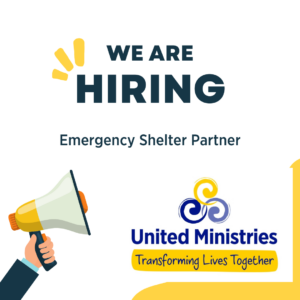 This position is responsible for supporting the United Ministries Housing Program to fulfill the mission of offering emergency shelter and hospitality to families experiencing homelessness, as well as helping participant families obtain housing or move into United Ministries' Interim Housing and Striving to Thrive offerings. The Emergency Shelter Partner works directly with families to address immediate needs, set appropriate short- and long-term goals, develop fundamental personal and regulatory skills, connect with other programs and staff at United Ministries, and chart a viable path to self-sufficiency and financial well-being.  Relationships and work with participant families will last for the duration of time that a family is in United Ministries' emergency shelter, which usually does not exceed 12 weeks.
Applicants should email a resume and cover letter to: employment@united-ministries.org
Position Responsibilities – Essential
This list of tasks is illustrative ONLY, and is not a comprehensive listing of all functions and tasks performed by positions in this class. It does not imply that all positions within the class perform all of the duties listed, nor does it necessarily list all possible duties that may be assigned.
Direct Service
Independently manage a schedule of coaching appointments, home visits, and other responsibilities.
Assist with the selection, intake, and orientation processes for prospective and new guest families.
Provide case management and direct aid for enrolling families to address existing crisis situations and to establish the stability necessary for program participation.
Engage one-on-one with adults in newly enrolling families on a weekly basis to learn about their goals for program participation; to identify needs and barriers, as well as personal strengths and resources, relevant to the successful pursuit of those goals; and to establish an appropriate service delivery plan.
Utilize motivational interviewing and other interpersonal strategies to effectively build rapport and trust with participants; to facilitate behavior change and foster self-regulatory skills; to guide the ongoing development and modification of appropriate goals; and to develop, monitor, and continuously revise the plan for achievement of goals.
Partner with each program participant to address barriers to obtaining permanent housing and developing financial self-sufficiency, providing direct assistance according to each individual's capacity. Common issues include transportation, childcare, criminal background, substance abuse, mental health, physical health, legal documentation, education, and family stability. Barriers may be addressed by providing guidance regarding effective strategies, connecting individuals with other resources and programs in the community, providing direct aid, or personally advocating for an family with third parties, as appropriate.
Provide input for staff identification of sheltered families who could successfully participate in longer-term Agency programming and program-provided interim housing. Assist in the development of exit plans for families not participating in long-term programming or Interim Housing with the agency.
Work in tandem with program participants to conduct a successful search for permanent housing, identifying and pursuing appropriate housing opportunities, navigating application requirements, and providing household items and logistical support upon move-in.
Information Management
Effectively utilize phone, text, email, and other technology to facilitate and organize a high volume of communications with participants and staff.
Maintain effective communication with host congregations and community partner agencies to coordinate service delivery for families.
Effectively utilize multiple information technology tools and platforms to collaborate with staff on joint projects and to organize participant tracking information.
Maintain accurate and complete records in the agency client database, including: contact, demographic, and assessment information; as well as detailed service tracking notes for each significant participant interaction.
 Within the Team
Actively participate in team meetings and projects to improve the services provided and opportunities available to participants.
Communicate regularly with other team members concerning individual participants and program offerings. Gather and utilize input and institutional knowledge from other team members as needed to inform and strengthen practices.
Provide logistical support for participants in emergency shelter when necessary, including transportation assistance and the delivery of needed items.
Participate in the on-call rotation with other staff members in order to provide remote support and coordination for emergent issues after normal business hours, and be available to provide direct, on-site support in urgent situations.
Monitor the condition of emergency shelter units and promptly communicate any needs or concerns to the Housing Coordinator and/or the Housing Program Manager.
Within the Agency
Participate in all agency-wide meetings and special events as able.
Maintain a clean, orderly, and professional work environment.
Maintain up-to-date knowledge of services offered through other programs at United Ministries and connect participants with these services when appropriate.
Work directly with other program managers and staff to maximize program integration and coordination of services, particularly for co-enrolled participants.
Believe in and act in accordance with the values and mission of United Ministries.
Engage in professional development activities and embody the spirit of lifelong learning.
Community
Create, maintain, and improve relationships with other agencies in Greenville in an effort to best assist families in emergency shelter.
Position Responsibilities – Non-Essential
This list of tasks is illustrative ONLY, and is not a comprehensive listing of all functions and tasks performed by positions in this class. It does not imply that all positions within the class perform all of the duties listed, nor does it necessarily list all possible duties that may be assigned.
Perform other duties as assigned.
Essential Skills and Experience
Bachelor's Degree
Demonstrated skill in working with large groups, small groups, and individuals.  Demonstrated ability to engage with all parties using diversity, equity, and inclusion (DEI) best practices, as well as to assist people facing barriers of all types.
Interpersonal coaching skills
Proficiency with Microsoft Office (Word, PowerPoint, Excel), Zoom, and Google Suite (Gmail, Drive, Docs, Sheets)
Proficiency with navigating, researching on, and collecting information from the internet
Proficiency with using a database and spreadsheets to organize and track various kinds of participant data
Excellent verbal and written communication skills
Integrity and discretion
Regular and sustained attendance
Demonstrated skill with time management, planning, organization, and follow-up
Beneficial Skills and Experience
Previous experience in counseling and/or non-profit work
Bilingual skills
Related lived experience
Working knowledge of Trauma-Informed Care
Salary:  $37,000-$39,000 annually, commensurate with experience.
Benefits:
36 hour work week (1/2 day Fridays)
90% employer paid medical plus the option of dental/vision (employee covered)
2% annual retirement, after one year of employment
STD/LTD (employer paid)
voluntary life
15 days of annual PTO
11 Paid holidays