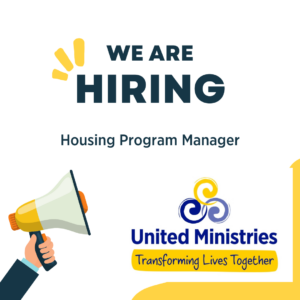 The Program Manager is responsible for the development and implementation of all aspects of the Housing Program to fulfill the mission of providing both short-term shelter and long-term housing to participant families in an effort to assist these families in achieving long-term self-sufficiency.  This Manager will supervise and collaborate with other Housing Program team members, as well as collaborate with the agency's Financial Wellness Manager, Mental Health Counselor, Facilities Coordinator, Program Support Specialist, and staff of other programs.  The Manager will ensure that the Housing staff working directly with participants are able to address immediate needs, as well as assist participants with setting appropriate short- and long-term goals, developing fundamental executive functioning skills and self-efficacy, and charting a viable path towards permanent, affordable housing. This Manager is responsible for communicating and collaborating with partners of the emergency shelter offering, including both the landlord of the shelter apartments and the multi-faith congregations assisting directly with the shelter offering. This Manager also will ensure the quality of the agency's Interim Housing offerings.
Applicants should email a resume and cover letter to: employment@united-ministries.org
Position Responsibilities- Essential
This list of tasks is illustrative ONLY, and is not a comprehensive listing of all functions and tasks performed by positions in this class. It does not imply that all positions within the class perform all of the duties listed, nor does it necessarily list all possible duties that may be assigned.
Management and Program Development
Supervise, collaborate, and communicate regularly with Housing Program staff to provide the resources, training, and support required for program success. Provide frequent consultation and guidance regarding service plans for program participants.
Facilitate one-on-one parallel coaching sessions in order to provide regular constructive feedback for Housing Program staff, to set goals for professional development, and to identify any additional training needed.
Facilitate team meetings and projects to improve the services provided and opportunities available to participants.
Independently manage a schedule of team meetings, independent meetings, off-site visits and trainings, and other responsibilities.
Communicate with the Volunteer Manager regarding recruitment and training of new volunteers, as well as the needs and schedules for current volunteers.
Communicate with Interim Housing partners annually regarding renewal of MOUs, as well as throughout the year, as needed.
Collaborate with the administration and management team of United Ministries to develop and implement strategies for best practices that benefit participants.
Manage and provide oversight for program budget and expenditures. 
Direct Service
Co-lead the selection of prospective guest families. Approve the enrollment of all new guests families. Ensure proper intake and orientation processes for newly accepted guest families, and assist the Housing Coordinator as necessary.
Provide leadership for the staff identification of families in emergency shelter who could successfully participate in longer-term Striving to Thrive programming and agency-provided interim housing. Assist in the development of exit plans for families not participating in Striving to Thrive and Interim Housing programming.
Interface with program participants utilizing a trauma-informed approach—among other interpersonal strategies—whenever possible, so as to establish rapport and trust. 
Information Management
Maintain accurate and complete records in the agency client database, including: contact, demographic, and assessment information; as well as detailed service tracking notes for each significant participant interaction.
Participate in ongoing program evaluation capacity-building, including necessary development and updating of an Outcomes Measurement Plan and a corresponding CRM database/system.
Maintain accurate program records and track programmatic outcomes. Submit accurate reports as needed for agency publications, grant reports, and funding.
Analyze and utilize program data for program development and team performance evaluation.
Effectively utilize phone, text, email, and other technology to facilitate and organize a high volume of communications with participants and staff.
Effectively utilize multiple information technology tools and platforms to collaborate with staff on joint projects and to organize participant tracking information. 
Within the Team
Act as a back-up for the provision of logistical or direct support for participants in temporary shelter or interim housing.
Participate in the on-call rotation with other staff members in order to provide remote support and coordination for emergent issues after normal business hours, and be available to provide direct, on-site support in urgent situations.
Within the Agency
Participate in all agency-wide meetings and special events as able.
Maintain a clean, orderly, and professional work environment.
Maintain up-to-date knowledge of services offered through other programs at United Ministries and connect participants with these services when appropriate.
Work directly with other program managers and staff to maximize program integration and coordination of services, particularly for co-enrolled participants.
Believe in and act in accordance with the values and mission of United Ministries.
Engage in professional development activities and embody the spirit of lifelong learning.
Community
Maintain effective communication with community partner agencies and multi-faith congregations to coordinate shelter set-up and meal provisions for families. Along with the Volunteer Manager, develop and facilitate educational opportunities for partner congregations.
Create, maintain, and improve relationships with other agencies in Greenville that provide shelter and/or housing in an effort to best assist families in the Housing Program.
Act as a knowledgeable, professional, and discerning representative of the agency in formal and informal community efforts and conversations to address homelessness and self-sufficiency.
Actively participate in community efforts and organizations addressing homelessness in Greenville, including the Greenville Homeless Alliance.
Be responsive to inquiries and requests from individuals in the community who are seeking services or seeking help for others.
Position Responsibilities- Non-Essential
This list of tasks is illustrative ONLY, and is not a comprehensive listing of all functions and tasks performed by positions in this class. It does not imply that all positions within the class perform all of the duties listed, nor does it necessarily list all possible duties that may be assigned.
Perform other duties as assigned.
Essential Skills and Experience
Bachelor's Degree
Demonstrated skill in working with large groups, small groups, and individuals. Demonstrated ability to engage with all parties using diversity, equity, and inclusion (DEI) best practices, as well as to assist people facing barriers of all types.
Demonstrated skill with public speaking, as well as teaching and engaging a group
Proficiency with Microsoft Office (Word, PowerPoint, Excel), Zoom, and Google Suite (Gmail, Drive, Docs, Sheets)
Proficiency with navigating, researching on, and collecting information from the internet
Proficiency with using a database and spreadsheets to organize and track various kinds of participant data
Leadership skills
Excellent verbal and written communication skills
Integrity and discretion
Regular and sustained attendance
Demonstrated skill with time management, planning, organization, and follow-up
Beneficial Skills and Experience
Master's Degree in Social Work, Counseling, or other related field
Bilingual skills
Related lived experience
Working knowledge of Motivational Interviewing, Mobility Mentoring®, and Trauma-Informed Care
Salary:  $46,000-$48,000 annually, commensurate with experience.
Benefits:
36 hour work week (1/2 day Fridays)
90% employer paid medical plus the option of dental/vision (employee covered)
2% annual retirement, after one year of employment
STD/LTD (employer paid)
voluntary life
15 days of annual PTO
11 Paid holidays