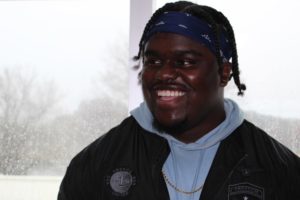 Jordan Harris is a rising senior at Furman University and is pursuing a double-major in Urban Studies and Politics & International Affairs.
We asked Jordan a series of questions – some fun and some serious – to learn more about him and why he chose to intern at United Ministries this summer.
What are your plans after college?
I want to pursue my masters in urban planning. I also want to continue playing football at a high level.
What would be your dream job?
I would love to be a professional football player, certified city planner and a capital investor that focuses on affordable housing development, sustainable technology and ideas that equally enhance community and economic development.
Why did you want to intern at United Ministries?
I wanted to serve the people within the Greenville community while learning more about how non-profit agencies contribute to overall community development and poverty alleviation.
What do you like to do in your free time?
I like to work on my football skills, read and watch the NBA and The Wire.
What's been your favorite class in college and why?
I really enjoyed Introduction to Poverty Studies. It focused on so many aspects of society that contribute to the state of poverty within America and globally.
How do you take your coffee?
Some cream and three to four packets of sugar. If I'm going to Starbucks, I'll probably get a peppermint mocha though.
You're given $2,000 and can only spend it on other people – what do you do with it?
I would open up a sector within my personal enterprises and call it JayBo Ministries. It would focus on philanthropic efforts and community enhancement by way of monetary investment. I would start by starting seasonal food drives and sports camps to give kids a place to play (and an outlet for lower income parents who might not be able to afford child care services).