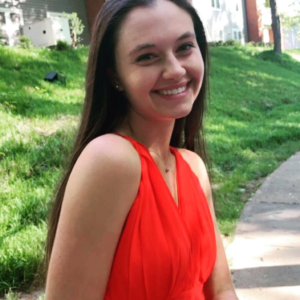 Lauren Heimberg is a rising senior at Furman University where she is majoring in Public Health with 2 minors: Poverty Studies and Health, Medicine & Culture. She also has a concentration in Policy.
Earlier this summer, we asked Lauren a series of questions to learn more about her.  Read on!
What are your plans after college?
Find a job at a non profit and then eventually going to grad school for social work or some sort of policy.
What would be your dream job?
My dream goal in the public health field would be to become a top partner with a hospital system working on preventative care in local communities in order to make a real impact on individuals and the community.
Before I realized my academic strengths, I wanted to initially go to medical school in order to become an athletic trainer for an ice hockey team in the NHL or AHL. I grew up being a huge fan of the Washington Capitals and dreamed about working for them. Being 100 pounds and a female, I knew being a professional NHL player was not realistic….
Why did you want to intern at United Ministries?
Sophomore year, Tony McDade came and spoke to my Poverty Studies Class and then that summer, I went on a United Ministries tour for a MayX. Their collective mission and community workplace inspired me. Late last summer, I spoke with Tony at an alumni event and he offered me the internship for my senior capstone experience.
What do you like to do in your free time?
I love to run longer distances between 2 miles and 6 miles. In high school, I completed my first half marathon with the intention of doing a full marathon in college. Unfortunately life events have prevented me from getting all the way to 26.2. But I still have time to eventually get there!
I also am in the service fraternity Alpha Phi Omega at Furman University. Just like my passion for health, I love to volunteer and give back to the community. Hence, why I am going into non-profit work.
What's been your favorite class in college and why?
This is a really difficult question. I would have to say intro to American Government with Dr. Norwood my freshman year. If I had taken it any other time, I probably would not have enjoyed it as much. But, it was January 2017 and President Trump had just been inaugurated. There were several people in the class who liked to discuss and debate. It was the first time I felt capable and impassioned to debate the political atmosphere. My other favorite classes have been Intro to Public Health and Intro to Poverty Studies.
How do you take your coffee?
I can't drink caffeine, so I usually drink decaf peppermint tea with milk and honey.
You're given $2,000 and can only spend it on other people – what do you do with it?
For the families in IHN, I want to fund the pet fees in apartments so the families can keep the family pets. Since apartments charge so much for pet fees, those starting out often do not have the income to support rent and the animal fee. My dog is super important to me/was a major part of my childhood and I could not imagine having to give her up because my housing charges hundreds of dollars extra for pets.
Recent Posts
Archives
Categories