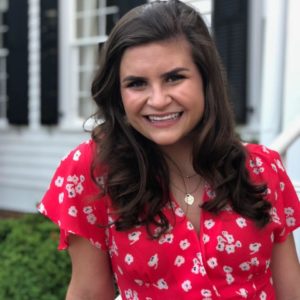 Marie is a rising senior at Furman University where she is majoring in Biology and minoring in Environmental Studies.  While this may not seem like the most likely pathway to an internship at United Ministries, read on to learn why Marie chose to join our ranks for the summer.
What are your plans after college?
I plan to go to graduate school for genetic counseling and/or community medicine.
What would be your dream job?
My dream job is to become a genetic counselor.
Why did you want to intern at United Ministries?
I wanted to intern at United Ministries mainly for the experience. I was drawn to United Ministries by the people and its integrated nature. The relationship building focus of each sector of the United Ministries team is truly incredible and is something that I strive to emulate.
What do you like to do in your free time?
In my free time I enjoy reading, spending time with my family and friends, knitting and watching "Jeopardy!"
What's been your favorite class in college and why?
My favorite class in college so far was Environmental Health. This course combined two of my interests in a unique way as I was forced to challenge my thinking in terms of the impact of everyday issues and challenges that directly affect the well-being of the community.
How do you take your coffee?
Honestly, I am usually happy with whatever. My favorite is iced with cream and sugar!
You're given $2,000 and can only spend it on other people – what do you do with it?
First, I would make sure my family is taken care of. After that, I would invest it in a program that promoted women's health and advocacy for victims of domestic violence.