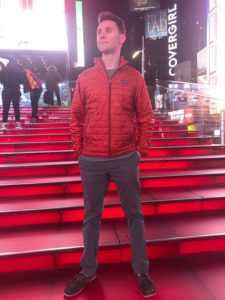 Sam Johnson will graduate from Furman University in May 2020 with a degree in Spanish and a minor in Poverty Studies.
This summer, we asked Sam a series of questions to learn more about him.  Read on!
What are your plans after college?
I hope to attend law school.
What would be your dream job?
District Attorney.
Why did you want to intern at United Ministries?
If I stay in Greenville, I want to know how the growth of the city has affected every one, and Tony (United Ministries's executive director) warned me a lot about how gentrification has hurt the surrounding areas of Greenville
What do you like to do in your free time?
I enjoy playing my clarinet and spending time with my friends.
What's been your favorite class in college and why?
That would be Education 111, as it has taught me the value of progressive education.  I've also learned that while the opportunity to learn is available to most children, how we learn is the most important concept.
How do you take your coffee?
Cream and two sugars.
You're given $2,000 and can only spend it on other people – what do you do with it?
I would invest in people running for public office, as they always need funds.
Recent Posts
Archives
Categories