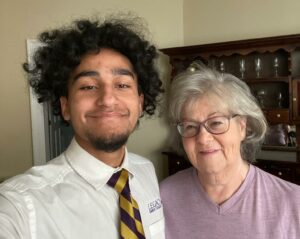 Sylvia joined the IHN program in February of 2020 with her 17-year-old son, Kenneth. She had been working full-time for a few months as a case manager and wanted to consciously work on being a good steward of her money. Immediately after joining our program, she began working with our Financial Service Coordinator, Michelle Lyons. Sylvia created a plan for her financial goals and identified what she needed to do now to become a homeowner.
Learning she had four predatory loans and many collections, Sylvia worked with Michelle to review her expenses, her paycheck, and potential unexpected expenses. She took that information to create a "snowball plan" to pay off all her bad debts within 12 months by using an extremely detailed spreadsheet. She also began our matched savings program to consistently save money for emergency savings and for future closing costs on a home. She also called creditors and debt collectors to make debt arrangements and settlements. In her first month of working with United Ministries' staff, Sylvia paid off two collections totaling over $600!
Unfortunately, the pandemic caused a slow down when her pay and work hours were reduced. However, the setbacks did not stop her. Instead, she updated her spreadsheets to adjust for budget changes and came up with a revised plan to pay down debt. Then her employer offered her a new position as an Intake Specialist working with homeless veterans. As a veteran herself, this role has been fulfilling for Sylvia.
Her son, Kenneth, will be graduating from high school this spring. He's been active taking college course work at Greenville Technical College and working part-time at Farm House Tacos. With great appreciation, Sylvia and Kenneth also received a donated car that's meet their transportation needs and provided great support. Sylvia continues to pay down debts (over $4,000 so far), improve her credit score, and save; and was even recently featured in a video with Village Engage to discuss her experience with predatory lending. She is eager to finish the program and shared with her IHN case manager that when she finishes, she'll "be more than willing to volunteer or whatever I can do to give back!"
We're looking forward to that day, Sylvia, and believe it's coming soon. You are on your way to home ownership and we applaud all the progress you've made thus far to reach self-sufficiency!
Recent Posts
Archives
Categories