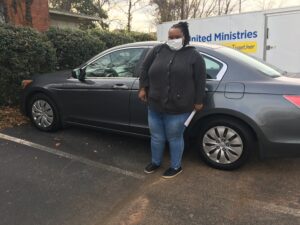 Tish and her three sons were welcomed into our Interfaith Hospitality Network (IHN) emergency shelter during the beginning of the pandemic. Having completed treatment at Serenity Place, a residential treatment center for mothers struggling with addiction, Tish's motivation to continue her journey to self-sufficiency and regain stability for her family was undeniable. She began meeting with her IHN case manager, Nicole, to craft a plan to reach her goals.
Maximizing the resources available to her, Tish met with our Adult Education staff to learn about WIN certificates, connected with Employment Readiness to work on finding a higher paying job, and worked with our Financial Services Coordinator to find ways to lower expenses and build her credit. As Tish continued showing up to her appointments on time and prepared, she began to see the improvements she was making in her life and how her hard work was benefitting her children!
Even though our congregational network was closed due to the pandemic, we were still able to provide Tish's family temporary housing in one of three apartments Grace Church graciously offered to us at a reduced rate. Interim housing provided Tish and her family the stability, sense of security, and peace of mind needed for Tish to focus on finding the supports needed for her family.
Incredibly, Tish and her family were able to move out the apartment and into permanent housing that works for her family on February 8, 2021!
Wishing you continued triumphs on your transformative journey, Tish!
Recent Posts
Archives
Categories