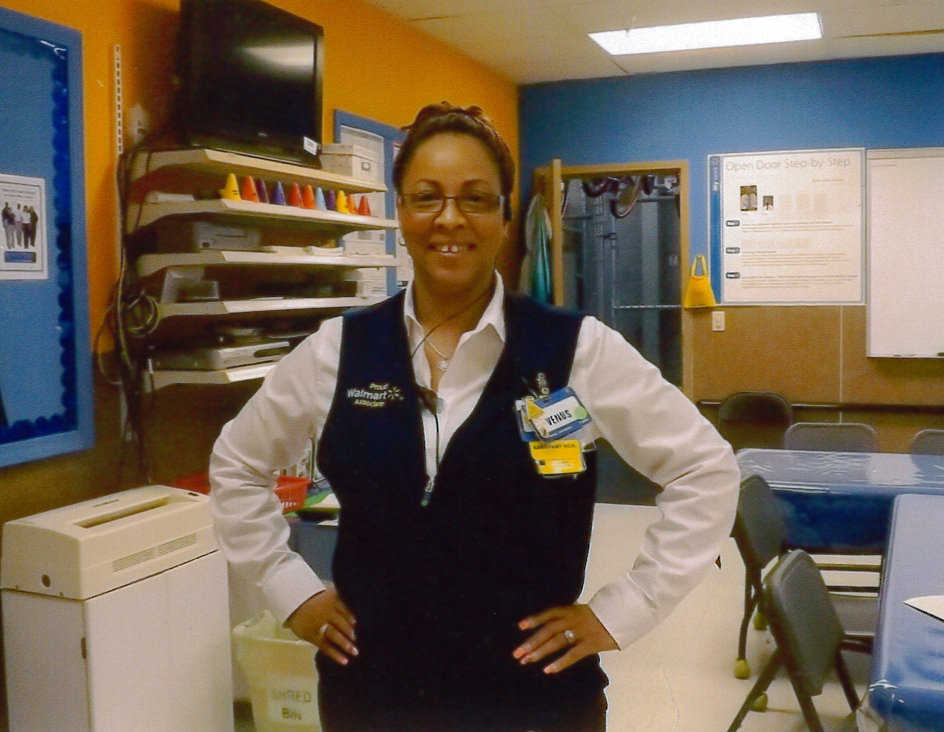 After turning her life around from a 15-year addiction, Venus Mansel began setting goals for herself and achieving them.  She gave the following inspirational speech at the United Ministries' GED Graduation, Spring 2013.
First of all, I would like to thank God for the many opportunities He has blessed me with. It is an honor and privilege to be able to stand here tonight and share some of them with you. To begin, I would like to let you know a little about me and my journey. I didn't finish high school, could not hold a job for more than six months, and led a life of addiction for over fifteen years.

On November 26, 2006, I experienced the delivering power of my Lord and Savior, Jesus Christ. I had a strong desire for a new way of life. I wanted to set goals in my life. No more starting something and not finishing it. I came up with a list of things that I wanted to work on immediately: first my driver's license, followed by my GED, and next would be a job that would last more than six months, and a college degree that would help jump start a career.

My first goal was one that brought about some fear. Some years ago I had a DUI and thought it would prevent me from getting my driver's license. I was about to live out 2 Corinthians 5:17 ["Wherefore if any man is in Christ, he is a new creature: the old things are passed away; behold, they are become new" (ASV)]. I gave the lady at the DMV my information and waited as she ran it through the computer. They didn't even have a record of me ever having a driver's license. Jesus wiped my slate clean, and I had achieved my first goal.

My next move was signing up for Greenville Literacy's Rotary Program. I began taking classes four days a week. The first time I took the GED test was January 5, 2008. I passed every subject except math! The person I used to be would have given up right then and there, but I said the Lord has brought me too far to quit.

I continued studying and went back on September 18, 2008 only to fail again. At this point, I signed up for the Adult Education program at United Ministries. While enrolled in this program I began studying with (Academic Counselor) Ben Sullivan. Ben took the time with me to break things down to help me better understand them. I became more confident during this time and eventually took the test again on June 13, 2009 and once again, I failed. When I spoke with Ben he asked, "Venus, what's wrong…I know you know this?" I told him that I was not sure what was going on. On the test day, I just go blank. I continued studying but did not take the test again for some time.

Throughout this whole process, I was working full-time at Walmart. I began in the Maintenance Department cleaning bathrooms and floors and doing various other tasks. From there I moved to the Automotive Service Department as a service writer for six months. My next position was a Customer Service Manager. This was the first position in which I managed other associates in the store. Before taking my last GED test, I had reached the level of Department Manager of the Deli and Bakery.

In May of 2011, after a day of studying, I went to Ben to say, "I think I'm ready" to take the test again. He simply said, "Ok, I will see you tomorrow." My Daily Devotional on this particular day was on the story of David and Goliath. The Lord was letting me know that math was my giant and He was going to give me the tools to defeat it. I took my practice test this day with confidence and faith in knowing God was going to see me through. I passed it with a score of 590. Ben said he knew I was ready, and he signed me up for my test. On June 7, 2011, I took the test but without the confidence I had during my practice test. Even so, I said that if I failed I would not give up and would go back.

A few days later I went to see Ben to tell him I felt like I had failed the test again. He said, "Let's just see how you did." I didn't even know the results were in. Ben said, "YOU DID IT!" I said "I PASSED?" He said, "Yes," and we hugged and cried, knowing this had been a long hard struggle for me. I called my family and friends to tell them all the good news. With my scores, I went straight to Greenville Tech and enrolled in college.

While in college studying for my Associates Degree in Substance Abuse Counseling, I maintained a GPA of 3.6 and was on the Dean's List. Going into my third semester of college, I got married and was promoted to Assistant Manager at Wal-Mart. God has truly blessed us.

I am here to let you know that you should set goals, strive for them and never give up. You have accomplished one major goal in receiving your GED. Now you must continue on, while aiming high…SHOOT FOR THE STARS.

"The greatest danger for most of us lies not in setting our aim too high and falling short; but in setting our aim too low, and achieving our mark." –Michelangelo