50 Stories for 50 Years: Catalina Hawley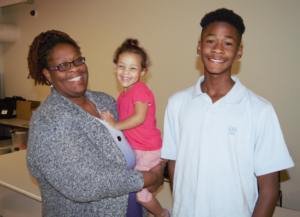 Catalina Hawley moved with her son Lucien to the United States in 2013, when Lucien was just seven years old. A medical situation brought her to seek treatment in the states, and Lucien's good fit within the school systems led them to stay. As someone who had struggled with school herself, Catalina realized that American schools offered Lucien "a better learning opportunity… [and took the] steps to help" Lucien scholastically. Although happy with the school system, Catalina had trouble making ends meet during this time and her bills were piling up. Not long after having her second child, Charlotte, the family moved to Anderson County in hopes of finding more affordable rent. However, she quickly realized that she would not be able to afford her home in Anderson either. Instead of being evicted, Catalina chose to leave her apartment with her children and try to figure out the next step.
Finding herself homeless, Catalina connected with United Ministries' (UM) Interfaith Hospitality Network (IHN), which supports families in Greenville by using a network of congregations and volunteers. The first step of IHN is to help families secure temporary shelter, which is done by housing families with different congregations each week. Catalina, Lucien, and Charlotte spent their first week in Springwell Church and their second in Westminster Presbyterian Church. Catalina explains that she "didn't know what to expect" during this time, but she was "sort of expecting the worst" since she and her family were going through a crisis. However, both Lucien and Charlotte adapted well to the changing circumstances, and the Hawley family found long-term friends and supporters at the churches. Westminster volunteers Beth and Julia both immediately connected with the family and have gone out of their way to stay in touch with Catalina and her family. They have created a friendship that has gone on for one and a half years and is continuing to thrive.
After spending time in the emergency shelter portion of IHN, Catalina demonstrated that she was working towards financial self sufficiency and qualified to participate in IHN's Transformation Track and live in one of UM's transitional houses. Furthermore, as of mid-March, Catalina has paid $8,000 of her bills so far! There have been many ups and downs for the Hawleys, but there is a lot to look forward to. Catalina is working on getting her masters and PhD to further her career in education. Lucien has been working on his artistic skills with the support of an artist from Westminster Presbyterian and has some wonderful paintings to show for it! Catalina says her eventual goal is to buy a house but is choosing not to rush into the process since she believes she still has a lot of work to do on her credit. The Hawleys are an excellent example of determination, and we are proud that they are continuing to build on the work they have already done.