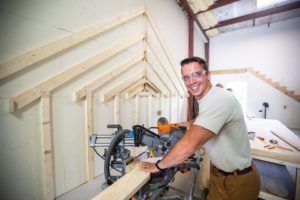 Sometimes you meet someone who embodies the words "resilience" – who seems to have had been dealt more than their fair share of bad cards but still manages to find their way to live a meaningful life. Charles Paris, a participant in United Ministries' Employment Readiness (ER) program, is such a person. Charles felt like he was "born addicted to opioids" and found that life growing up was consistently tough. His grandpa raised him because his dad was always working, he lost his mom to drugs when he was just 19, and he himself started doing drugs when he was only 15 years old. Because of his addiction, Charles was in and out of jail from his teenage years until his mid-twenties. Although he had managed to graduate from high school during this time, he continually found himself struggling in life. Then 2017 hit, when a chaplain from jail gave him a bible and he began to change his life.
In 2018, Charles started the Overcomers program, a drug addiction program, with Miracle Hill Ministries. During that time, he began working with our counselor Stephen in the ER program so that he could improve his credit score and enter our matched savings program, which allows him to build up his savings. Charles further practiced his skills in mock interviews, which helped him "build a lot of confidence." Seven months later, Charles graduated from the Overcomers and joined the Men's Workforce Development program at Homes of Hope, an internship that houses men overcoming addiction while teaching them marketable construction and soft skills. Here, he lived with other men for 9 months while he learned how to build houses.
Charles had first become interested in electrical engineering in high school and later, while in prison, earned an electrical/electronics certificate "and decided it was a good route" for him. This interest paired with Homes of Hope Workforce Development allowed Charles to become invested in his skill and looks towards his vocational future. Once he graduated the program, he was hired at Southern MEP as an electrical helper. Going forward, he wants to enter Greenville Tech to get his associates in Electrical Engineering and Tech. Charles' story shows how multiple agencies in Greenville can work together to support an individual and he demonstrates the power of what a motivated person can do.