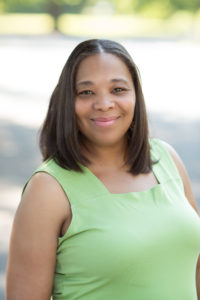 Davida Bryant began her time at United Ministries as an intern for various programs. She mostly worked as a receptionist during that time, which gave her the opportunity to learn about the many facets of United Ministries and to talk one-on-one with everyone from new participants to long-time board members. When the position opened in 2005, she was recommended to become the manager of Emergency Assistance (EA). Davida has learned the importance of personal connection through her time in EA. She has discovered that many participants have barriers in their lives that cause them to seek extra help and is constantly inspired by the many who have "been able to overcome their struggles." She also knows that hearing their stories will allow her to better serve them.
Davida stresses that "life happens and you never know when you'll find yourself in [an unfortunate] situation." Throughout the years she has seen people with all kinds of backgrounds and education find themselves asking for assistance. She has seen people she always thought were wealthy from her youth  come in to ask for support, and she has always been happy to go the extra mile to assist all people in creating plans for the long term future and connect them to United Ministries' other programs.
As an employee of United Ministries for 25 years, Davida has plenty of stories to share about her experience. Here are a couple that have stood out:
To "give a hand up, not a hand out," is a phrase often heard but not always implemented in the nonprofit world. In the years after Davida began her work with United Ministries, EA changed its criteria for giving out assistance so that a qualifying participant must put in effort to become employed if they came back to United Ministries for rent or utilities assistance again. Some participants were frustrated with this new rule, and one woman tried to persuade Davida otherwise, with no success. When the woman returned, Davida thought she came back to further criticize the new rule. Instead, the woman said, "Thank you for telling me no. I am now working, and it feels good." This reminded Davida that strategized help often pushes people to do more in their life, often with great results.
Davida also remembers a man who often slept outside behind some bushes near United Ministries. He sometimes visited our day shelter, so Davida saw him around but went years without having a conversation with him. One Saturday when she came to work, she was startled when this man popped out of the bushes. This encounter got them talking, and soon Davida learned all about his past: he was a veteran who suffered from PTSD and found himself homeless through a string of circumstances. Every time she saw him, Davida made an effort to hear more about his story and check on his progress to improve his life. Four months after their first encounter, Davida learned that he had secured both housing and a car. Her encouragement supported him in his progress and taught Davida a great lesson. She knows that simply "acknowledging a person can bring about change."
Davida believes that "United Ministries has always asked, 'What can we do for our participants?'" With that question in mind, Davida continues to help change the lives of many for the better.