50 Stories for 50 Years: Linda Satterfield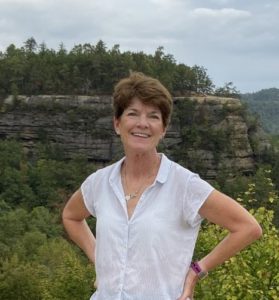 Linda Satterfield, a volunteer of 20 years at United Ministries' (UM) Emergency Assistance program, keeps coming back to help year after year because she feels the "commitment to the community and individuals who need to be served." She also stresses that she thoroughly enjoys the tasks she embraces here, from packing groceries to interviewing participants who come for assistance for their heating bill. After talking to Linda, it's clear that devoting 20 years of volunteering to our organization has taught her many things. She focuses on three main points:
One of the first major things Linda learned during her volunteer career is how many organizations Greenville has that can help people in need, and how many of them United Ministries partners with. Even though Linda was volunteering with us, she saw that "you don't live in your little bubble of United Ministries…you need to work together [with other organizations] for the benefit of the community." Participants often come in with more than one barrier weighing on them and knowing the abundance of resources in Greenville can help support them in a more holistic way.
Not too long after starting volunteering in 2000, Linda also saw the scope of what UM can offer within its own programs. Even though her focus was on helping people who fell on hard times and needed emergency assistance, she realized that participants can often benefit from programs in our Learning Center. Whether needing a GED or help with employment, other volunteers and staff can often help more than participants initially realize. Even within the Emergency Assistance program, Linda stresses how much she has seen staff and volunteers go out of their way to help participants figure out complications in their life.
What stood out to Linda as the final and most important thing she's learned through her volunteering is how there is such a wide variety of people, all with their unique stories, who come in for assistance. Linda has seen people of every education level and background walk through our doors, all looking for a little extra support in their time of need. "It surprised me how quickly life could turn," Linda admitted, after talking to numerous participants who were not used to needing assistance. "Things just haven't gone their way," she explains after talking about how so many of the participants could not have anticipated that their finances would take a turn for the worse.
Linda has proven to be a model volunteer, not just because of her commitment to come back year after year, but because of the passion she demonstrates when talking about United Ministries' mission. When Rev. Dr. Baxter Wynn, UM Assistant Director of Mission Advancement, called Linda to request that she be on the Mission Advancement Committee, she didn't hesitate to say yes and came in ready to learn more about UM. Linda explains that she "enjoys the committee – it's been another opportunity for me to see what brings in the funding." Linda has shown her caring attitude time and again, making UM very lucky to call her its long-term volunteer!