50 Stories for 50 Years: Shenita Frazier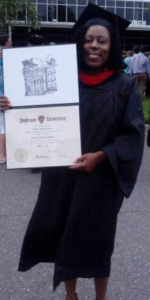 Before Shenita Frazier committed her life to the Lord, she had attempted to stick to United Ministries' Adult Education (AE) program three times. Shenita had quit high school in 12th grade when she "turned to drugs and had become rebellious." She attributes this to have had a "hard life with little motivation, [but it led her to fall] deeper and deeper into living life this way." A few years later, life slowly began to change when Shenita began to see how "enslaved [she] was to sin, alcohol, drugs, and was facing prison time for possession and trafficking cocaine."  This realization led her to face the serious reality of her situation, creating the path for herself in 2010 when she "gave [her] life to Jesus Christ." Around the same time, she lost her job and decided that it was time to commit herself to passing the GED exam once and for all.
Coming back to AE for the fourth time was immediately worth it when Shenita realized she "had awesome tutors and that Ms. Janey (who is one of the staff members) was so loving." For four months, Shenita devoted herself to her studies and focused on learning math for the exam. Then, at 31 years old, she passed her GED exam, causing her to feel "accomplished and kind of surprised!" Her education and relationship with UM did not stop here, however. UM paid for Shenita's registration to Greenville Technical College so that she could study Human Services. She studied at her own pace there, taking her time with classes and learning how to get "more comfortable with group discussions." After graduating, she was inspired by a professor to continue her education by enrolling in Anderson University's College of Christian Studies. There for three years, Shenita kept herself busy between her studies, mission trips, volunteering with Miracle Hill Renewal Center, learning sign language, and getting a job "working with people with mental disorders." Before being hired, she participated in UM's Employment Readiness program to prepare for professional interviews and to work with counselors to develop a budget and saving plan.
After earning her bachelor's degree, Shenita got married and returned to Miracle Hill's Renewal Center to work as a Biblical Counselor, where she has been for seven months. Shenita stresses that "the job is a blessing…I can empathize with the struggle of an addict. My life is a testimony to anyone who has had similar issues in life is. As long as they have breathe, they can find deliverance from the bondage of sin if they turn to the Lord for Liberty and know that it's never too late to pursue higher learning." Looking back, she has fond memories of the various institutions that have gotten her to where she is today, saying that, "UM is like a home. It's a great place in the community and a place to get started." Going forward, Shenita has more grand plans for her future. She continues to love her job and refers many of the women she works with to UM. Along with her husband, Shenita is "excited about starting an auto parts store where the revenue will help kids in Haiti get their education." After taking multiple mission trips there, Shenita has "a heart for the Haitian people" and can't wait to learn more about business in order to get this started. Shenita has blown us all away with her perseverance and we are looking forward to seeing what the future holds for her!