Tickets Available Now for 4th annual Uniting for Change Luncheon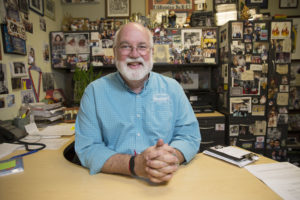 Tickets are now on sale to the public for the 4th annual Uniting for Change Luncheon to benefit United Ministries. Father Gregory Boyle, founder of Homeboy Industries and author of Tattoos on the Heart: The Power of Boundless Compassion, will address attendees on Thursday, April 25th at 11:30 a.m. at the Hyatt Regency Downtown Greenville. Transformation level sponsors are Buncombe Street United Methodist Church and First Baptist Church, Greenville.
The purpose of the luncheon is to elevate the conversation about poverty and charity in Greenville. Tickets are $50 per person or $500 for a table of ten and can be purchased at www.united-ministries.org/luncheon2019/.
Father Boyle has dedicated his life to helping LA's most marginalized individuals find a place in society's ranks. He has become a beacon of hope around the world. An acknowledged expert on gangs and intervention approaches, Father Gregory Boyle is a nationally renowned speaker and presents a message of kinship and compassion.
United Ministries has set a goal to raise $150,000 as part of the event to proceeds benefit their integrated services in education and employment, crisis assistance, and homeless services.
The 2019 Uniting for Change Luncheon is presented by Buncombe Street United Methodist Church and First Baptist Church, Greenville. Empowerment level sponsors are Dority & Manning, Reynolds Investment Management, Canal Insurance, NHE, United Community Bank, the Community Foundation of Greenville, Betty & Lewis Smoak, and Becky & Bobby Hartness. Table Sponsors are Smoak PR; CRH Properties, LLC; JustFaith at Christ Church Episcopal; Frances Poe; Cindy Poe & Susan Merritt; JustFaith at St. Anthony's; Furman University; Westminster Presbyterian Church; Elliott Davis; Bob Dillon; Jasmine Road; Miller, St. John, & Steele Group; Peggy & Ed Good; Keenan Suggs |Hub International; St. Matthew United Methodist Church; and Susan & Michael Cinquemani. Friends level sponsors are South State Bank, Craig Gaulden Davis, Brad Halter, First Citizens Bank, Whelehan Law Firm, and Keenan Suggs| Hub International. Advertising Sponsor is Community Journals. AV Sponsor is PSAV.
About United Ministries
Located in downtown Greenville's West End, United Ministries has been working for 49 years to give everyone the opportunity to participate in the prosperity of our community. Originally established by local congregations to meet the crisis needs of people living in poverty, the agency has evolved to focus on developing the potential each family possesses to become self-sufficient – and even to thrive. The agency's integrated service model discourages dependency on charity and promotes the dignity of work. For more information on United Ministries please visit United-Ministries.org or call 864-335-2615.