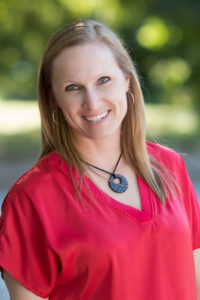 Here at United Ministries (UM), we use the term "integrated services" often. But what exactly does that mean, and what is its purpose?
Nobody explains it better than Amanda Warren, the Associate Director of Integrated Services. She understands that people are sometimes confused by the model but knows all the benefits that it brings.
Amanda explains that people sometimes assume that an integrated model means services are simply all under one roof- that it is a convenient location to get everything done in one place. However, it's so much more than that. While having our Adult Education, Employment Readiness, and Interfaith Hospitality Network programs all in the Learning Center building is certainly convenient, integrated services further strives to empower our participants in the most efficient and individual-focused way possible.
"Rarely does someone walk in our door just needing a GED, just needing emergency assistance, or just needing a job," Amanda explains. Since participants have many needs, it is key for our staff to know how United Ministries can further help them, which often means participants are helped by more UM programs than just one. "The idea is to focus on community and collaboration," says Amanda. The collaboration that integrated services provides means that all "UM programs and staff work together to help our participants tackle all their barriers. Only then can we truly empower people to gain long-term financial self-sufficiency." This may take the form of someone coming in for emergency assistance, and then coming back to obtain their GED, which is the High School Equivalency Certificate. Passing the GED exam opens new employment opportunities for many participants and often leads to setting new life goals. Once they've achieved that goal, they may return to work with an employment counselor to secure a long-term career.
The focus on collaboration at UM is what drew Amanda into the organization to begin with. It was 2007 when she decided she wanted a career change and began interning at UM. As an intern, she was tasked with spending time at all the programs, which allowed her to see the needs in the community from multiple angles. Impressed with the organization's holistic approach, Amanda joined UM as an Employment Counselor and quickly rose to be the Program Manager of Employment Readiness.
Although she is currently transitioning into her role as the Associate Director of Integrated Services, Amanda has much to reflect on as a former Program Manager since she was integral in many of the changes that UM has implemented in the past decade. While the Employment Readiness program always followed the one-on-one model, it did not prioritize its long-term view until 2013, when the program was overhauled with Amanda's help. This included creating an orientation for people interested in participating, as well as creating a four-day class so that potential participants know what they're getting into before entering the program officially. Furthermore, UM's Employment Readiness now has more of an emphasis on financial programming by providing financial coaching. Since improving the Employment Readiness program, staff have "seen more long term and lasting steps up the ladder" for participants, Amanda says.
Due to her successful work and focus on collaboration over the years, United Ministries is lucky to now have her step into the position as head of Integrated Services. This title means she will coordinate the three services in the Learning Center building, plus mental health and financial services. Unlike in her role as Program Manager, Amanda rarely works directly with participants now, except for the long-term participants going through UM for job training. Since her new role was created due to how much UM has grown, Amanda has big visions to continue that growth and serve our participants in even better ways.
United Ministries does not function in a bubble of its own, so Amanda knows that success here is often determined by changes in Greenville. While one of her goals is to expand mental health offerings to participants, she knows that mental health issues must be destigmatized on a large scale for mental health to be treated appropriately. Housing issues are similar in this sense; she hopes to secure permanent housing for more participants utilizing the Employment Readiness program but knows that a community-wide effort is needed to address the many facets of housing insecurity. Amanda further hopes to expand UM's financial services, increase financial coaching to Adult Education students, and acquire more funding that is devoted to UM's matched-savings initiative. Amanda has many goals for the future years and has faith in how UM will grow.
"The long-term nature of United Ministries is based on building relationships," Amanda explains. "Sometimes you can form a relationship with a participant who will call you 5 years later because they want to share their story. And if a hard time does hit, this is the place that will support them." These relationships mean so much to Amanda, and she looks forward to embracing them in her new position to help UM prosper in the years to come!