50 Stories for 50 Years: Gary Barnhart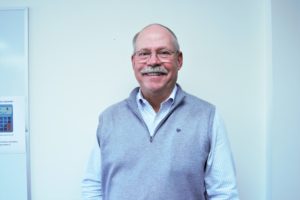 Gary Barnhart, a volunteer at United Ministries of three years, recently tutored a woman working towards getting her GED. This woman was nicer than imaginable and came to the Adult Education program to study "day after day after day." The woman was also homeless during this time.
After seeing how many barriers she had due to her living situation, Gary admits that he had doubts if she would be able to get her GED, solely because of the instability that homelessness brings. Happily, Gary admits that she proved that doubt wrong; the determination that brought her to United Ministries to study every day also led her to pass the GED exam!
Gary saw that former student at the United Ministries' GED graduation and could not have been prouder. Even though she had "so many bad cards dealt her way," she was determined to overcome her barriers. Seeing someone so motivated filled Gary with both pride for her and fulfillment for himself.
Gary has opened his heart to United Ministries and to the participants who visit him here. Three mornings a week, he tutors for the Adult Education program. He further gives his time and expertise on Wednesday morning by volunteering in the Employment Readiness program, where he gives job tips and performs mock interviews.
The thought of retirement brought Gary here originally. As he was looking to leave his lifetime of work at an airline company, he asked himself, "What are you going to do to fill your day?" The answer came from his wife, who was already involved in volunteering at United Ministries. Gary came with few expectations; he expected that it would be a straight-forward tutoring gig, and the semi-scary main question floating in his mind was, "Will I be able to tutor?"
Soon after beginning his volunteering career, his fears were put at ease. He realized that even though a word problem may occasionally stump him, he CAN tutor, and he can tutor very well once he embraced his own teaching style. Tutoring to Gary is about building trust with the student participant. Tutoring turned into more than just academics; tutoring became a personal passion. Gary proudly proclaims that he "fell in love with [tutoring at United Ministries because] it gives [him] a sense of purpose." For Gary, tutoring is a two-way street where he can find solutions to academic problems with the students, while he simultaneously grows a bond with them.
One of the first questions Gary often asks a new student is, "How did you get here and where do you want to go?" He doesn't pry when the participant is more reserved, but he believes that knowing more about the student's concerns can create a developed level of trust. Furthermore, knowing more about their life helps him know how to tweak his teaching style for the individual. It allows him to share relevant experiences from his life that can impact their studies in a positive way. Being able to build a trusting relationship can be just as important in helping people get their GED as it is being knowledgeable about the academic information being studied. Knowing that honesty and kindness is waiting for students at United Ministries "keeps people coming back," according to Gary.
When asked what is rewarding about volunteering at United Ministries, Gary has two main points. First, he emphasizes out how impressive it is when participants "still come back after becoming frustrated." For many United Ministries' students, getting their GED is not as simple as coming to study every day and taking the test quickly. It often consists of outside obstacles such as arranging transportation to the program, figuring out child care, combating homelessness, and overcoming academic frustration that stems from not understanding a subject right away, not getting the desired score on a practice test, or having to overcome self-doubt. Gary has seen a fair amount of frustration from participants and never ceases to be amazed when their determination to continue studying is stronger than the negative emotions and barriers that can sometimes appear.
The second part of the program that Gary finds so rewarding is seeing students succeed. One of the most tangible ways this is shown is through the graduation night that United Ministries hosts for its students who have gotten their GED each year. Gary declares this night "the greatest night in Greenville," since it illustrates the students' "own initiative and drive to get their GED." A night full of emotion and pride is exactly what the participants, volunteers, staff, and the community at large often need to understand the importance of the program and how valuable each individual participant is.
Gary originally said that "If [he] didn't have United Ministries to go to, [he]'d be lost." Without volunteers like Gary, United Ministries would be lost, too. Volunteers keep United Ministries' doors open, so everyone here is eternally grateful to volunteers like Gary for their amazing work!