50 Stories for 50 Years: Lizzie Bebber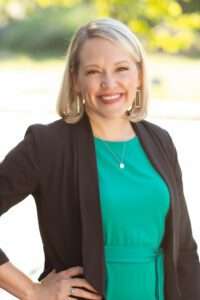 You may know Lizzie Bebber as United Ministries' patient and thoughtful new Executive Director: a person who goes the extra mile to get things done. While this is certainly true now, this attitude of service towards her community is one that was molded from a young age. Her passion for helping others "started as a child when [she] grew up in a home that encouraged [her] to think of others and their perspectives." This influenced her to become active in her church and with volunteering in high school and in her college community. When she attended seminary, her mentors challenged her to question her passions, and she realized that the times she was serving alongside others were the "times [she] felt most alive."
As a leader who knows that people are "wired for connection," Lizzie immediately was drawn to work that focused on human services after she graduated. Her first main opportunity was working in a woman's shelter where she learned so much from "navigating what healing looked like" with the participants there. Once she relocated to Washington DC in 2008 to join her fiancé (now husband), Lizzie began to work at a medical respite facility for men who are sick and experiencing homelessness, first stepping into the role of Director of Volunteers. She completely fell for the mission of the organization, drawing her to stay there for nearly 12 years to help the agency affect change for larger systems. Although she left DC recently, the organization's ability to benefit both its internal and external communities shaped how Lizzie currently sees the world.
Lizzie and her husband, Eric, have two children and began to feel drawn back to similar types of work in the South, closer to where both of their families live.  Lizzie first learned about the work of United Ministries through several friends, and became more curious about the work of the agency in the Greenville community. When she said yes to the role of Executive Director, she had already seen the desire the staff has to do meaningful work and work with other nonprofits in the area. Lizzie came into the position right as COVID-19 impacted us; although this has created more challenges in transition, it has allowed Lizzie to be "grateful for the community support and trust in United Ministries' work" during the pandemic and overall in the community. Furthermore, it forced the entire organization to be flexible and willing to work differently, giving Lizzie "a window into the ability for adjustment" that Greenville nonprofits can grow from.
Although meeting with staff and partners over Zoom has not lent Lizzie the experience she was expecting, she has still been able to appreciate the transformation she sees participants and the organization showcase. "An individual or family can come to us in the midst of various crises, including COVID-19, and we can meet them where they are and support them at various levels," Lizzie explains. She has found it exceptionally moving how every person has the capability to improve their lives here and within themselves, since they are the experts about their lives. Going forward, Lizzie "always wants the work to be about affecting long-lasting change." This can be done by influencing larger systems and focusing on improving broader issues, such as racial inequality, access to healthcare, and all the barriers that influence homelessness. In an ideal situation, Lizzie would like to see "a world where United Ministries is not needed." We are so grateful to have Lizzie's leadership and knowledge while we all learn to live with a different kind of world!