50 Stories for 50 Years: Nick Bush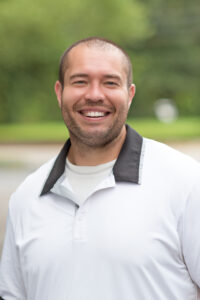 Since he was a kid growing up in New Jersey, Nick Bush always wanted to be a cop. He wanted to do good in the world through his career: something that he practiced by volunteering at a soup kitchen and learning more about homelessness. After moving to Tennessee to get his degree in psychology and getting married, he worked at a jail for a few years. Through this position, he realized that instead of helping people experiencing crises, he was "seen as the enemy" as a member of law enforcement. This realization led him to switch his profession to mental health work, where he "learned about deep poverty," such as people who were living off the land and experiencing domestic violence. When Nick and his wife moved to Greenville, he joined the United Ministries (UM) team after a period of unemployment and was first hired on the Employment Readiness team. When the grant for that position ended, he was hired on as an employee at Place of Hope, UM's day shelter for the homeless, in 2010.
At the time, POH was in a time of transition. Since UM's mission is to increase self-sufficiency, Nick and other staff decided to make some crucial changes. The shelter evolved to only be open in the morning and have the services all offered with a purpose. In addition to shower, laundry, and telephone services, Nick stepped into the role of case manager for people who needed help with paperwork and securing identification and housing. In the afternoons, Nick began focusing on completing paperwork and outreach. His role is one that has many facets, and he stresses that "one of the greatest things about UM is that it gives you freedom to create." That is, Nick can see a new trend among participants and brainstorm new ways to serve them, which UM encourages since the organization is focused on helping people as holistically as possible.
In his role, Nick has found that "every part teaches you or reminds you of a different lesson." The participants he works with come from diverse backgrounds and all have their unique needs. He encountered this with one particular participant who was mentally ill and first arrived at POH with only his underwear on. It took this man over two years to trust Nick, but when that trust was formed, he worked with Nick to achieve housing and get proper medication. This reinforced the lesson that it "takes a long time" with some people, because Nick knows he can't force change on anyone who doesn't want it. Nick's favorite part of his role is when a participant comes back to see him and "they're doing good and being healthy still."