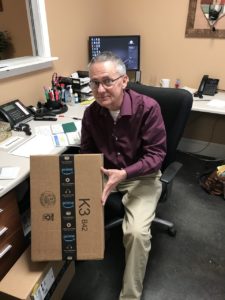 Robert Norwood's life did not turn out how he thought it would. He was raised in Tennessee and North Carolina where he had a wonderful childhood. From the beginning of his childhood, his first love was aviation, and he committed himself to a career where he could work with various types of flying and successfully climb the ladder in the airline business. This career moved him all around the country until he decided to get out of the airline business in 2001, after 9/11. He moved to Myrtle Beach where he worked for a hotel and life was seemingly good. Good, that is, until the day where Robert was driving along and an elderly man drove into him, causing him to be physically injured and mentally affected. After that, Robert fell into a deep depression and was "in a dark night," leading to a nervous breakdown. During this depression, he "got into trouble [with the criminal justice system] just a few blocks from his house," causing him to have to "settle for 10 years" in prison. In the blink of an eye, Robert's life had turned upside down.
Although not where he wanted to be, Robert explains that his time in prison was "overall positive." He credits this with becoming a Teacher's Assistant and transitioning into the role of mentoring previous gang members. During his last six months in prison, Robert was moved to a reentry program where his counselor recommended Soteria Community Development Corporation, a temporary home for men transitioning back into society, in Greenville. "What I needed was a launching pad," says Robert, which he was able to get at Soteria where he became an intern. "It was exactly what I needed to figure out that God put me here," he explains, since the program gave him a place to live and immediate work. The staff there quickly saw Robert's potential, so he was put on the staff as the front office coordinator. Robert's years of customer service helped him connect to the Greenville community, and Soteria kept him busy with a tight-knit schedule of activities.
One of these activities was being connected with us at United Ministries (UM), where he attended a four-day program that helped him pinpoint future job prospects and perform mock interviews. Ambitious as always, Robert quickly impressed UM's Employment Readiness staff and was able to open a matched-savings bank account with us. Soteria further connected him with UM by having Robert meet with Susan Boykin, our mental health counselor, who helped him become acquainted with more of our programs.
The future looks bright for Robert, who will graduate from the Soteria program in December. He plans to move into an apartment of his own shortly after. He stresses that he wants to "regain [his] independence" and save to buy a house. In addition to UM's saving account, Robert has matched savings granted by Soteria and has become the first Soteria intern to open a TD Ameritrade investment account. "Now I have an opportunity to rebuild my life here in Greenville," he explains. "There's a spirit in this town that I haven't seen before." We at UM are thrilled to see how far Robert has come and are excited to see what his life holds in the near future!