50 Stories for 50 Years: Stephen Shelato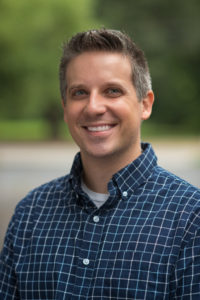 Employment counselors at United Ministries know that the road to a career is almost never how people imagine it. Stephen Shelato, who has been a counselor for two years, knows this from his own experience. He says that it took him "15 years to get [his] bachelor's degree," and many years to figure out what kind of direct service he wanted his career to focus on. Working in United Ministries' Employment Readiness program has become a great fit since his "own story gave him empathy" when working with participants.
Stephen first experienced working directly with the public at his job at the public library, where he tutored adults. His experience there led him to an internship at United Ministries, and he eventually jumped at an open position here. Both the library position and the internship solidified his belief that many people struggle to succeed because of "lack of training and assistance," which he could help give. Although there are many organizations that help with job training, Stephen became particularly interested in United Ministries because of the individual-centered approach taken here. He explains that the role of a counselor is to let the participant choose what is important and to help them reach their goals by playing a supporting role.
When counseling a participant, Stephen finds it helpful to assume that "there are five huge barriers" in that participant's life. Many people come to Stephen with one main problem, but he knows that there are other factors contributing to the issue they have. In order to tackle these barriers, Stephen has a two-prong approach. First, he focuses on leveling the playing field. This may take the form of giving participants bus passes to get to United Ministries for counseling or giving them business clothes for a job interview. Secondly, Stephen acts as a supporter by guiding his participant to look at finances differently in order to make sure they have good priorities financially. This financial support that he provides is paired with the participant taking their own actions to get on a better path, which allows them to get closer to self-sufficiency.
Some of Stephen's favorite parts of his position are assisting people with their budget and writing their resumes.  Working on a participant's budget with them is always rewarding because he can see how it changes that person's relationship with money in a positive way. Likewise, assisting in writing someone's resume can show a transformation in that person's attitude. Stephen says, "Sometimes people have low self-esteem from barriers they've encountered. Resumes can show what they've done successfully and turn those negatives on their head." As an employment counselor, Stephen knows that he helps the participant look at more than just their job skills in order to truly transform their life. He appreciates the holistic approach that United Ministries encompasses as a nonprofit and can rely on other programs here to help the participant further in their life.